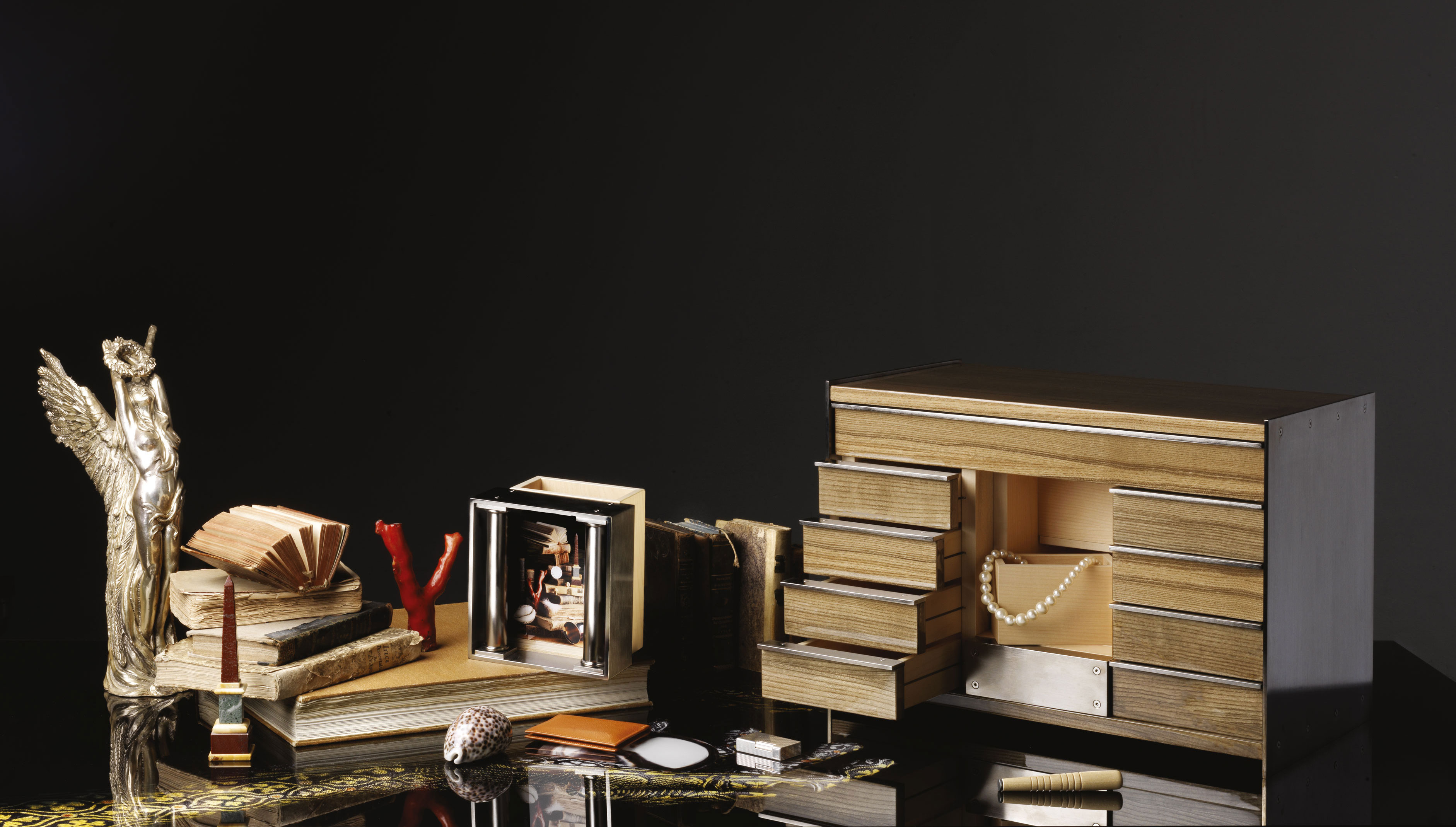 Manifattura Milanese has been founded in order to recreate in contemporary manner the fascinating world of these extraordinary pieces of furniture. Our Cabinets are realized in the continuity of the artistic virtuosity of the Lombard craftsmen, reflected in their care and search for quality and excellence. The production of these pieces of furniture, nowadays more or less extinct, is proposed again by our firm according to the concepts of a centuries' old tradition. The choice of fine materials, the careful finishing, and the possibility of obtaining a unique piece are inspired by the label of excellence which Milan has always stood for the true lovers of style and luxury. We believe that each epoch must find its own style and thus we have developed a contemporary proposal, which can as such refer itself to the past as much as to the future. Our production carries on the hallmarks and symbols of the classical Cabinets but declines them in a modern form. From its formal and decorative evolution over centuries we have identified the most representative and essential structural elements. ■ The architectonic structure on the model of a miniature palace or temple symbolizes the dialogue between microcosm and macrocosm. It is traditionally illustrated in the portico and tympanum, columns and balustrades. ■ The portico with its accompanying columns is the most distinctive feature which closely links our proposal to the classical tradition. ■ The image or effigy inside the portico at the centre of the perspective, stands as a focus of attention to access at another dimension. With regards to classical mythological themes though, and representations of nature, we have been open to various possibilities, allowing ourselves to be inspired by Gattinara's works. ■ We have incorporated the balustrade in the top of the lateral sides over the horizontal level. These lateral sides, beyond the architectural embellishment, serve as feet for the Cabinet and on the top to prevent any objects displayed on it to slide off. ■ Lastly we have here concretized the dialogue between precious metals and fine wood essences and lacquers in the production of a unique structure constructed from different parts and elements.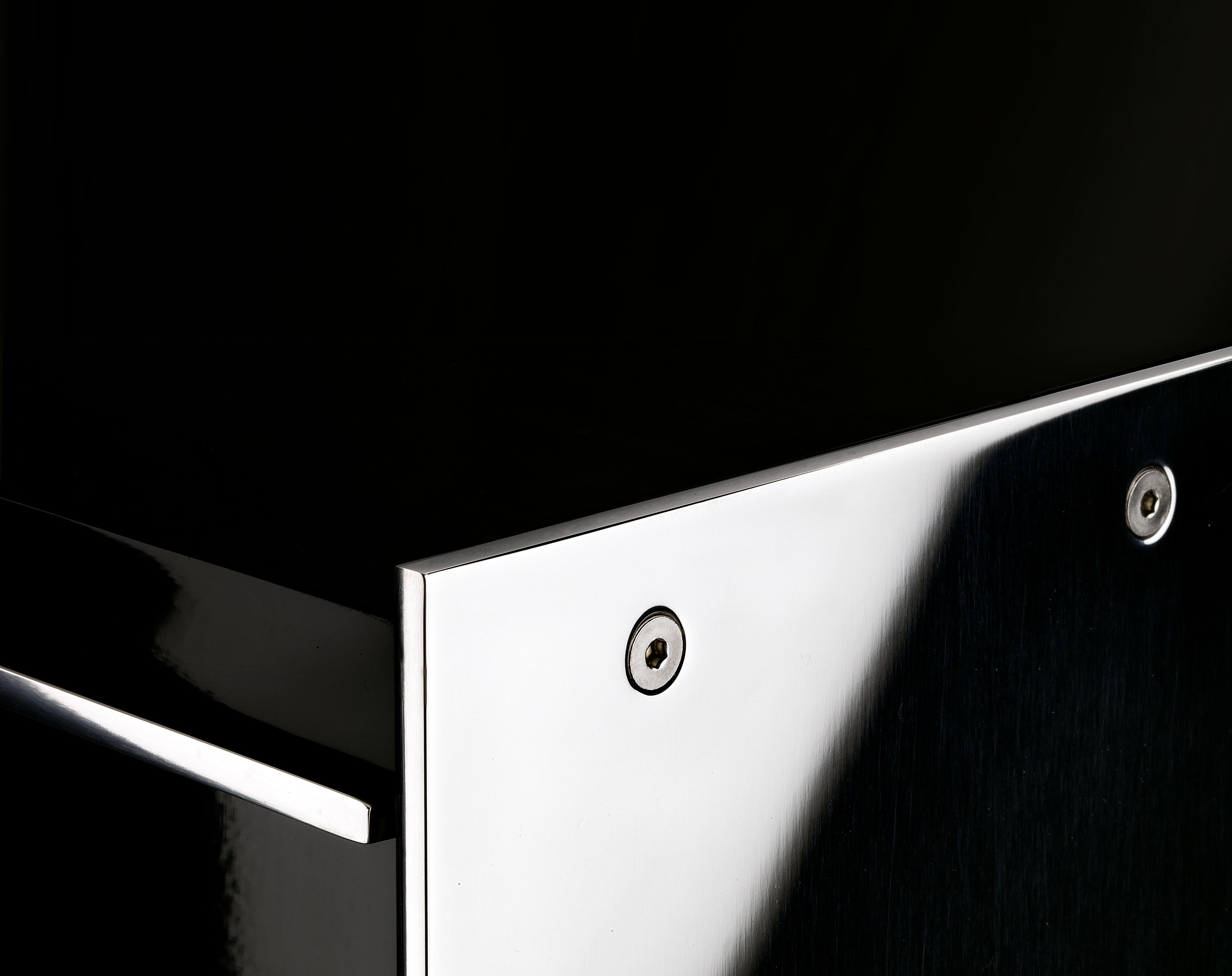 Cabinet top view with open drawers and portico removed. Inside are some hidden compartments.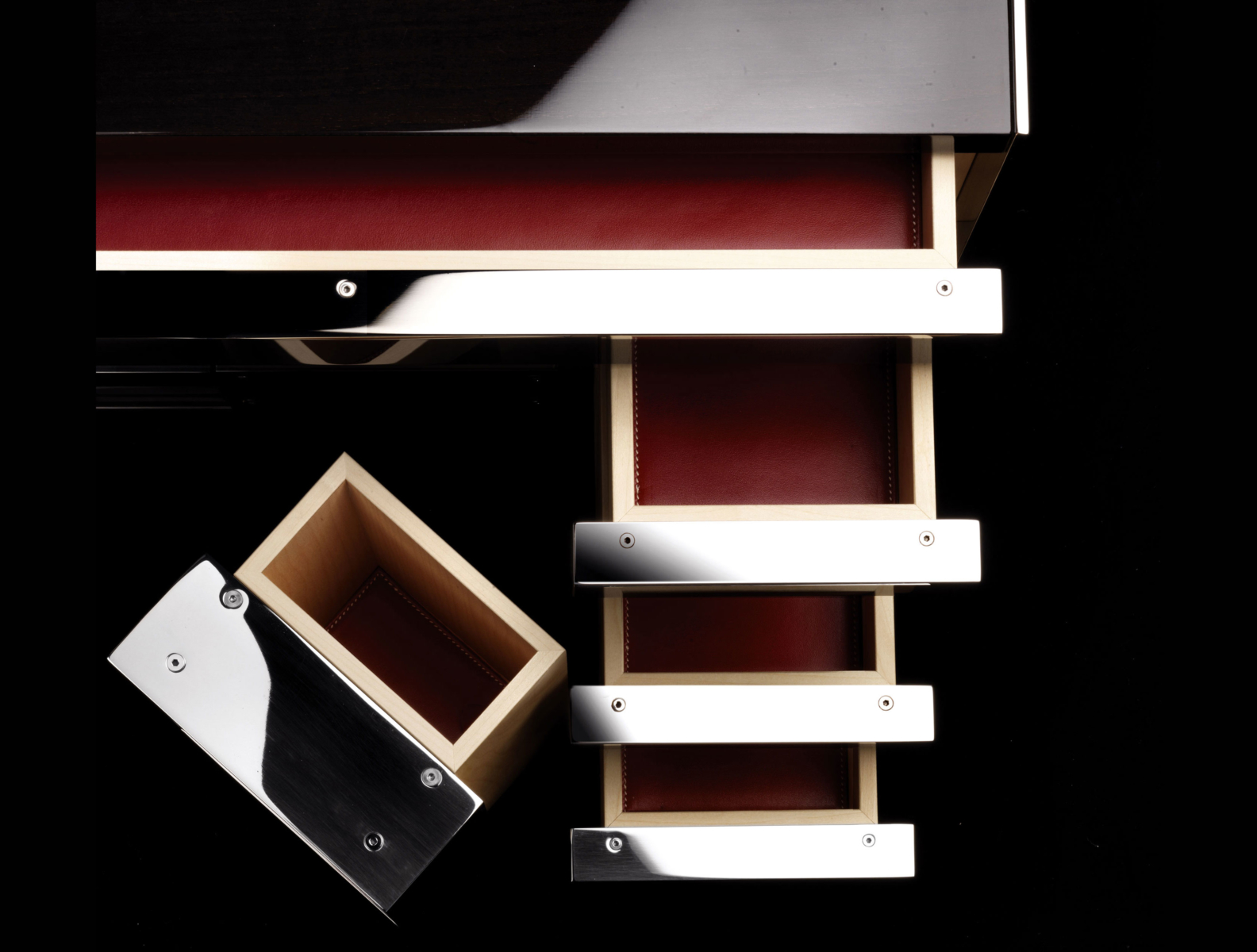 Detail of metal handles and the elegant Amara Ebony finish of this model.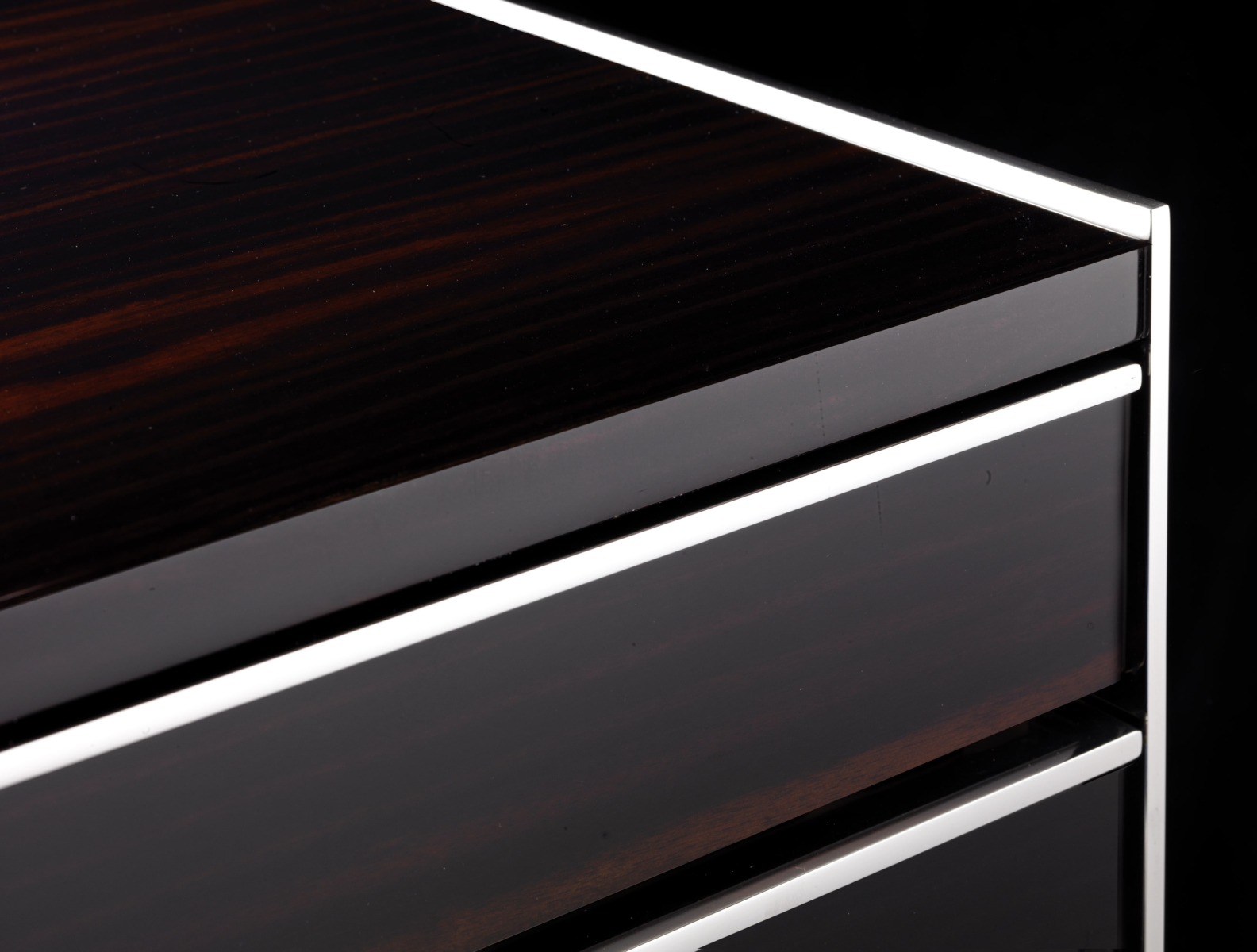 Every drawer is lined with a padded full grain red leather, with contrasting hand-stitching.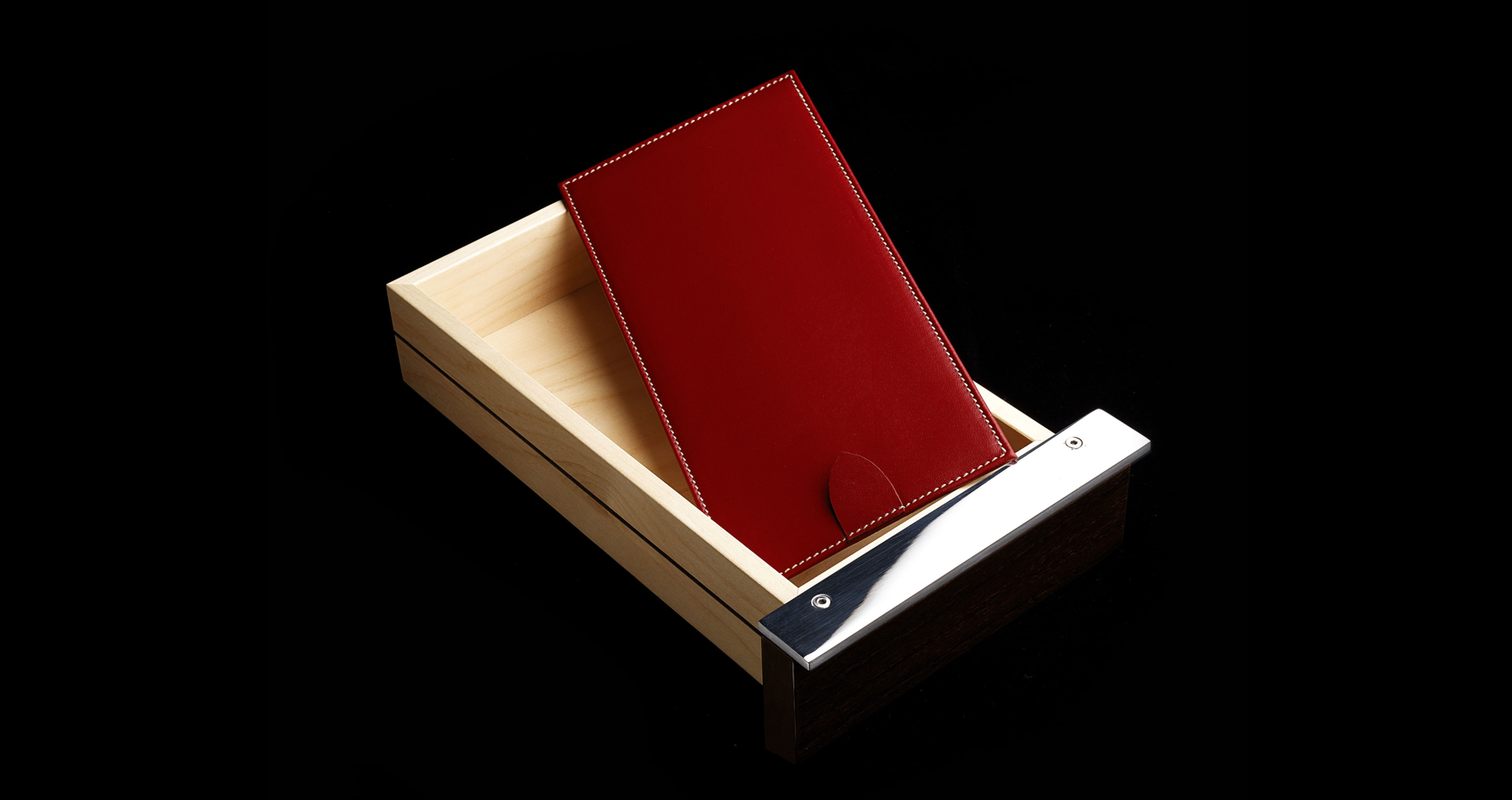 On the back of the central portico, discretely applied, the Manifattura Milanese logo. All inner finishes are in honey colored maple.